Best Things To Do In Minsk
Belarus remains one of the least ventured countries in Europe for tourists. Bordering Russia to its east and Poland to its west, the country acts as a link between Asia and Europe. However, since 2017, a new five-day visa on arrival is now available for certain citizens who fly in and out of Minsk International Airport or who visit the Grodno region. Minsk has an abundance of top sights, this concise list is merely the tip of its iceberg. Here are the best things to do in Minsk for your trip.
Best Things To Do In Minsk
Visit Oktyabrskaya street
Looking for a place to take colorful photos, attend a lively festival, enjoy stunning street art and see the largest graffiti in the world? Visit Oktyabrskaya street! It's particularly popular with youngsters, hipsters and creative locals.
Make sure you explore this old factory Minsk district and take selfies with all the graffiti found here! And don't miss your chance to grab a finger-licking hot chocolate and handmade sandwich at Lauka. Besides, there are some great bars and restaurants on Oktyabrskaya: ENZO, Simple, Let It Be. And creative spaces like OK 16, У gallery and Squat will add up to your cultural experience.
Party hard and go barhopping on Zybitskaya street
If you are a party animal and enjoy going on pub crawls, dropping in at lively parties and barhopping, Zybitskaya street is for you. One of the most vibrant walking streets in Minsk lined with all sorts of bars and pubs, each famous for their own drinks, food, interior, and the feel.
Go to Banki Butylki for a generous selection of Belarusian fruit and berry liqueurs, DIY for excellent hookahs DJ sets, Malt & Hops for elaborate collection of beer and whiskey, Chapski Bar for craft beer and 4-4-2 for the authentic rock-n-roll atmosphere. In fact, if you are looking for a comprehensive alcovoyage, check out all bars you can find around!
Walk the central part of Nezavisimosti Avenue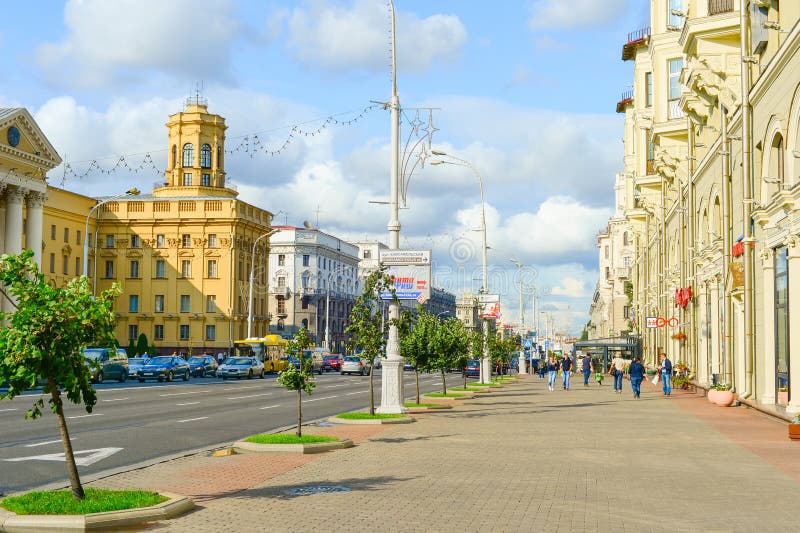 Minsk suffered a lot in the Second World War, with 80% of the buildings destroyed. A new city had to be built afterwards. It was rebuilt in grand Stalin's empire style: wide boulevards are lined with ornate imperial grandeur buildings. Some researchers consider it a variation of art deco. This architectural style was apparently derived from the French empire style of Napoleon Bonaparte.
Begin walking Nezavisimosti Avenue from the Red Church to Pobedy (Victory) Square and see the Government House, City Council, KGB Headquarters, Post Office, 'GUM' the department store, Palace of the Republic, House of Officers, and the Residence of the President, among the others.
The main Post Office can be found at the beginning of Nezavisimosti Avenue. Notice the unusual sculptures and the clock on the building.
Watch opera or ballet at the theatre
Minsk has truly some extraordinary buildings. None more so than the elaborate Grand Opera and Ballet Theatre. From the fountain in front, you might find yourself admiring the exterior of this awesome building. But get some tickets for a show and prepare to be amazed even further as you step inside a typical Russian-style theatre with professional opera and ballet performances. It is also known as the Bolshoi Theatre, sharing its name with its Moscow counterpart.
Enter the Cathedral of the Holy Spirit
Despite being banned under Communist times, religion has survived in the country and continues to play a part in Belarusian life. This striking cathedral is the centre of the Belarusian Orthodox Church. It dates back to 1633-1642 and has an adjoining monastery. It has since been reconstructed after fire and war damage through the years.
Cross onto the Island of Tears
As symbolic a memorial as you can find in the former Soviet Union, the "Island of Tears" is worth a trip. You enter onto the island via a small footbridge. Here there is a memorial to commemorate the Soviet Union's nine-year war with Afghanistan, which occurred between 1979 and 1988. On the island there is also a sacred statue of a young boy with angel wings. His private parts are more golden than the rest of the sculpture, as many Belarusian girls touch them on their wedding day in a superstition that means they will be certain to have children.
Tags :
Best Things To Do
foods
Minsk