The Best Coffee Shops In Perth
Australia is known for having a refined coffee culture. With an array of independent cafes scattered across the country, it's not surprising that the coffee scene continues to grow. With a passion for quality coffee and a commitment to using fresh, regional ingredients, Perth is home to a range of the best coffee shops in Perth, Australia.
The Best Coffee Shops In Perth
1. Harvest Espresso
This aesthetically designed cafe not only offers a range of croissants, muffins and gluten-free treats but some of the best coffee Perth has to offer. Using a custom blend from 5 Senses and Bannister Downs milk as well as Vittoria blend. You'll be lusting after everything coming out of the kitchen and you're sure to have food envy for days, with grilled squid with morcilla and in-house smoked salmon. Even croissants, muffins and moreish mini banana loaves, with raw and gluten-free goods supplied by Perth success story Raw by Chris. you'll be spoiled for choice with amazing coffee and food.
629 Albany Highway Victoria Park 6100
2. Hylin
This New York City-inspired cafe is a must-visit. Not only does this Perth coffee shop support the locals, with locally sourced furniture, artworks and amazing food., but it also cops beans supplied by Micrology Coffee, an independent local roaster. The coffee has people lining up out the door and with an all-day menu featuring a New Yorker Reuben bagel, açaí bowls and even crumpets come from the local farmers' market. What's not to love?
178 Railway Parade West Leederville 6007
3. La Veen Coffee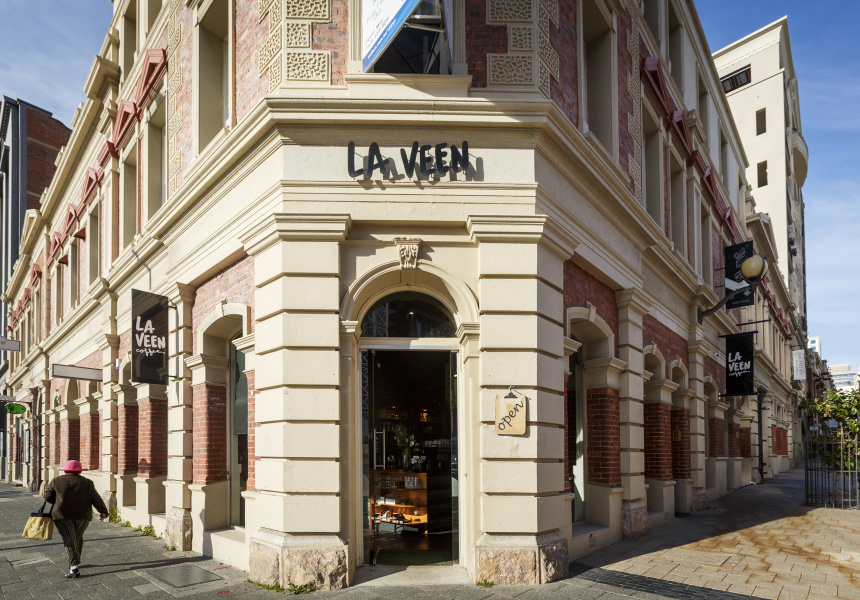 Hidden inside a heritage building with a weathered exterior, is arguably one of the best cafes in Perth. Offering a selection of beans from Rockingham's Five Senses as well as other bean types sourced from small roasters mostly based over east. With well-informed staff members that enjoy educating people about various brewing techniques and amazing food from casual dining and something more refined, you'd be a fool not to visit!
90 King Street Perth 6000
4. Grouch and Co
Grouch and Co sources beans from single-origin farmers from around the world, with different blends depending on the season. The beans are roasted in-house with choice of full cream to cashew milk, giving it a signature taste. Also offering teas all served in handmade ceramic cups made by WA-based Japanese artist Naomi Sugi, what's not to love.
1, 45 McCoy Street Myaree 6154
5. Sayers Sister
Sayers Sister in Northbridge is one of the best coffee shops in Perth that makes you feel like you've just stepped into your own home. Comfortable wing-backed armchairs are there to help you relax, while high ceilings, concrete floors and plenty of exposed brick walls give the venue a country home feel. The centrepiece is the communal table, which acts as seating for customers, service area, and a display for the overflow of homemade cakes on offer. The menu serves up all the breakfast favourites, making this a solid all-round cafe option while in Perth.
6. La Veen
Coffee lovers rejoice – La Veen routinely pumps out some of the best coffee on the west coast. Located inside a heritage-listed building at the end of King Street in Perth's Central Business District, the cafe features tall ceilings, warm wooden furnishings, and big windows that let in plenty of that sunny Perth weather. Inside, the focus is on all things coffee; from espresso and cold brews to the perfect filtered coffee.
The baristas here are passionate about their craft and will happily tell about your chosen beverage. If you're hungry, they also have a range of breakfast dishes available like avo smash, acai bowls, and of course plenty of eggs. If you want to master the art of coffee from the comfort of your own home, sign up for one of their classes. You'll learn how to make your favourite coffee and learn about the history behind it.
7. Humblebee Coffee
With two locations available – Mount Hawthorn and Riverdale – Humblebee Coffee is a heavy-weight in Perth's coffee scene, and for good reason. The micro-roastery has all your coffee needs covered – from tasty espresso and filter coffee, freshly roasted beans (which you can take home), to high-end home barista equipment which their friendly staff will talk you through. Be warned – they are purists when it comes to using only full cream milk; regardless, standouts on their coffee menu are the Espresso Tonic a double shot of espresso on ice and tonic water; and the Iced Aeropress – a filter coffee brewed on the Aeropress by the cup on ice.
Tags :
Australia
coffee shops
drinks
Perth